Integration Type:
Lead Capturing Software to capture leads by Phone, Forms, Chats, and Email, and push to Redtail CRM as a Contact. 
You will first need to enable the integration with Redtail within your LeadCenter.AI Account. Please follow the following steps to enable it:
1- Login to your account at LeadCenter.AI using https://app.leadcenter.ai/login. If you don't have an account yet, create a new account using https://app.leadcenter.ai/register
2- In the main dashboard, click on Setup on the bottom of the left menu ( https://app.leadcenter.ai/dashboard/settings )
3- Click on Integrations at the bottom of the Setup Menu to open the Integrations screen. (  https://app.leadcenter.ai/dashboard/integrations ).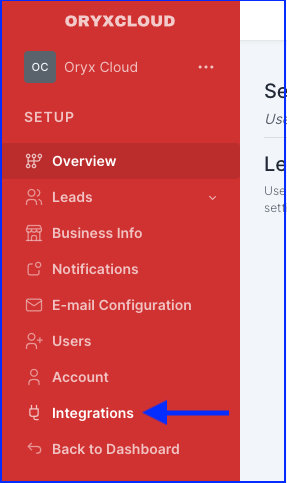 4- In the Integration screen, click on Connect button inside the Redtail box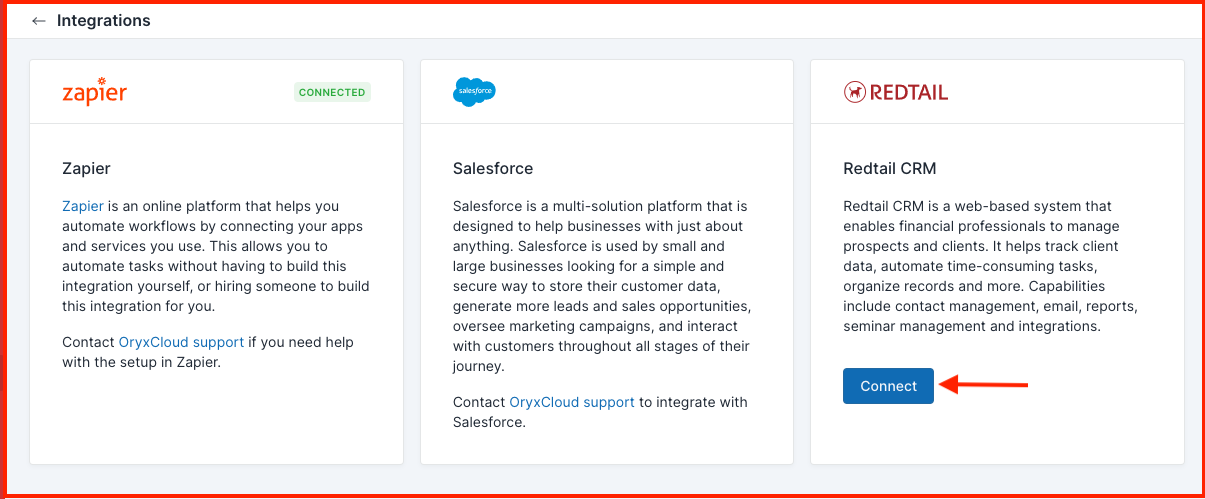 5- In the login to Redtail CRM box, enter your Redtail username and password and click on Connect button.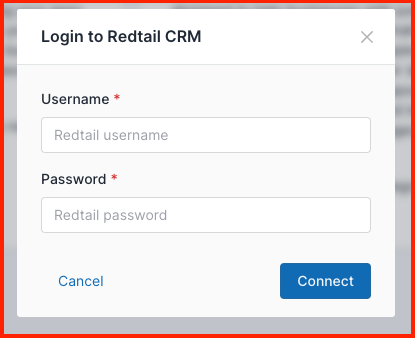 6- If the integration is successful you will green ribbon with a massage " Successfully connected to Redtail CRM. Configure the contact fields mapping to start pushing leads as contacts ". Also a green CONNECTED tag will appear on right-top cornet of the Redtail box.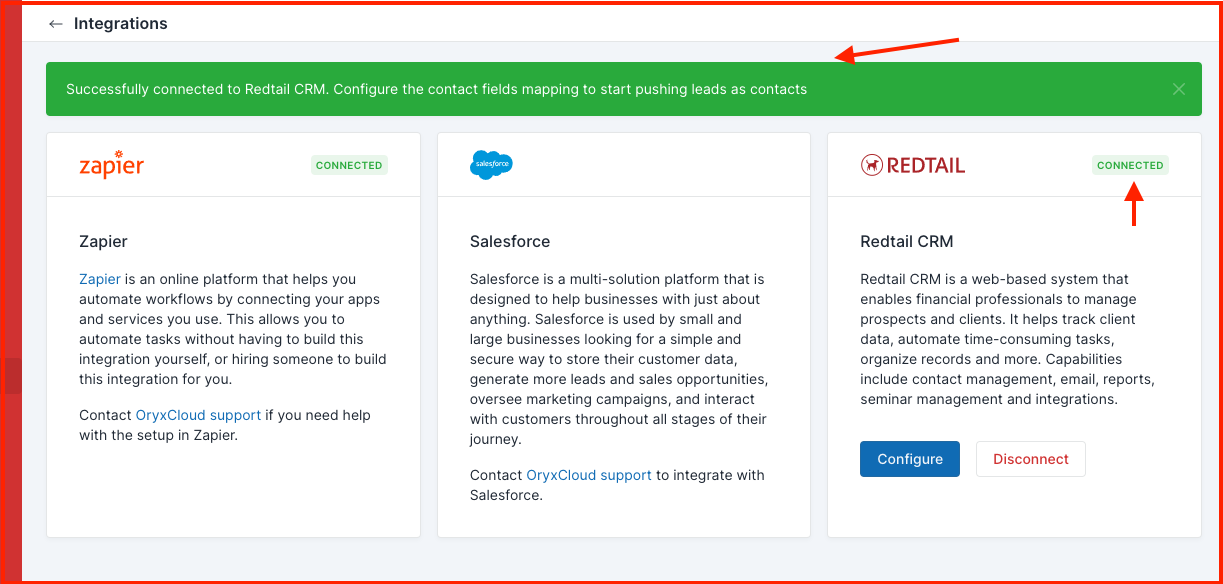 Now your accounts in Redtail CRM and LeadCenter.AI Lead Capturing are connected. The next step is to map the fields between leads in LeadCenter.AI and Contacts in Redtail. The next two sections will cover that. 
Once LeadCenter.AI connection to Redtail is established and you have created all the additional custom fields you like to push to Redtail contacts, the next step is to map lead fields in LeadCenter.AI to Redtail CRM fields. To accomplish this, click on the Configure button in the Redtail box in LeadCenter.AI integration screen.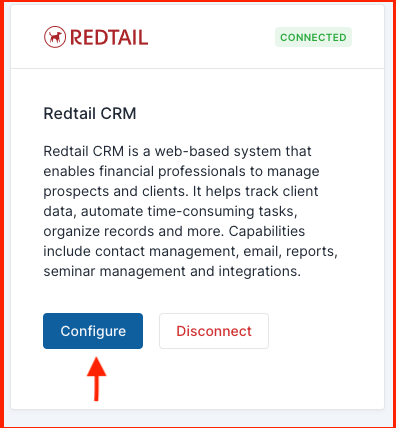 This will open the field mapping screen where you can map  Redtail contact fields to LeadCenter.AI lead fields.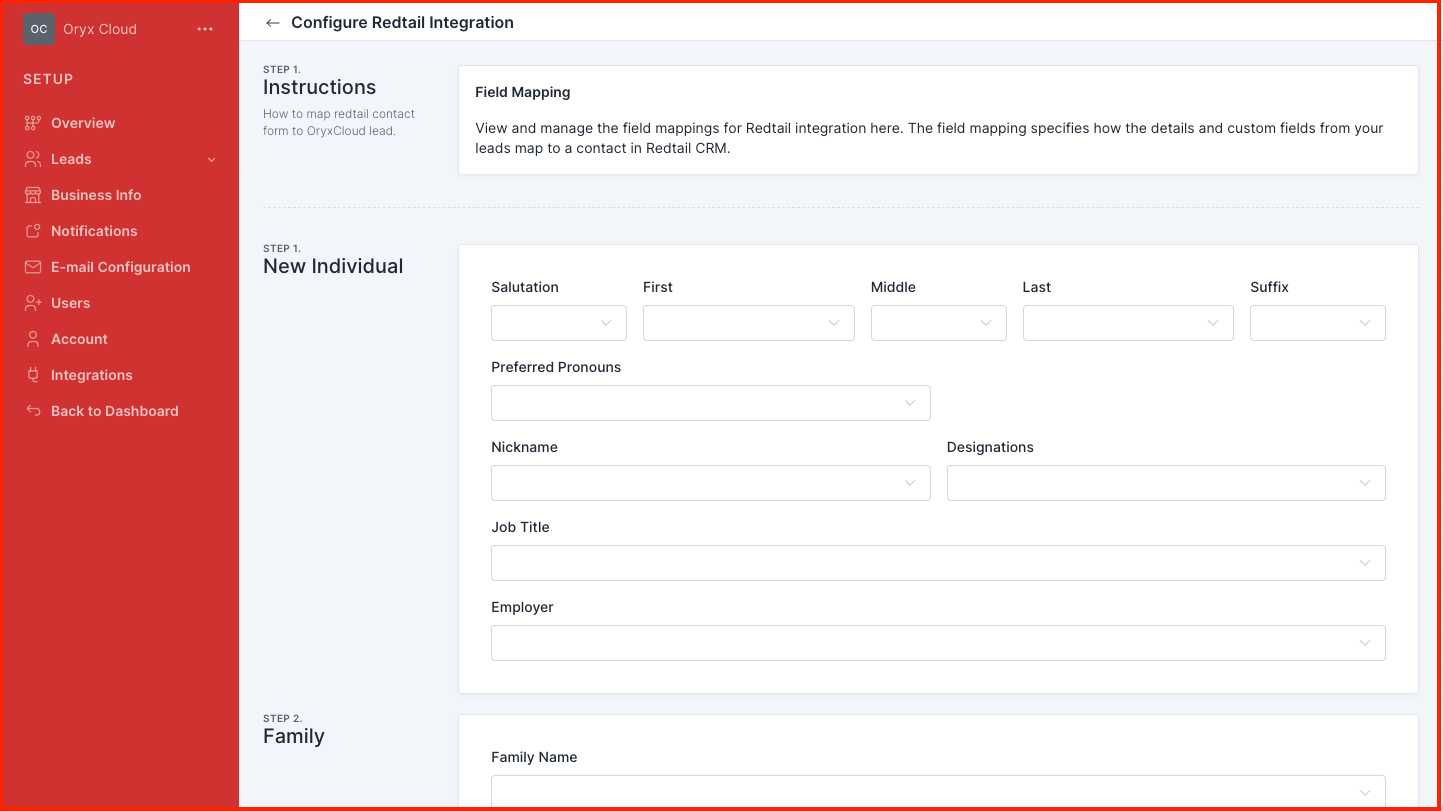 The mapping screen has all Redtails fields available to push data to. LeadCenter.AI lead fields will be available from the drop down box of each Redtail Field. For example to map Redtail contact first name field to LeadCenter.AI lead first name do the following steps.
1- Click on First Name filed. This open up a drown down box with all available lead fields in LeadCenter.AI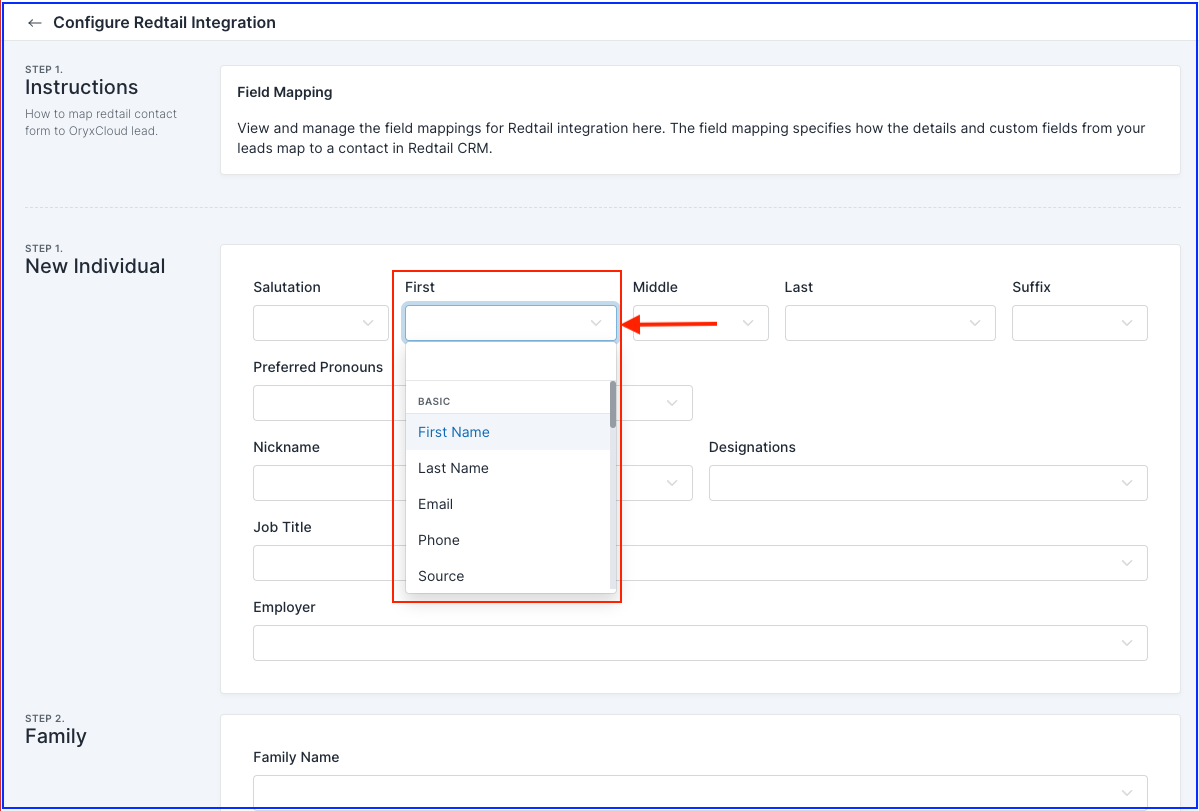 2- Search for First Name and Select it from the list. Now First Name in LeadCenter.AI is Mapped to First Name in Redtail. When you push a lead from LeadCenter.AI to Redtail CRM, those fields will map together and the first name of the lead in LeadCenter.AI will be transferred in Redtail Contact First Name. 

If you can't find the field you want to map in the drop down, you should create it first as a custom fields in LeadCenter.AI. For more information about creating Custom Fields in LeadCenter.AI, read this article. 
3- Once you map all the fields you want to map, scroll down to the bottom of the page and click Save Changes. 

The following Redtail contact fields can be filled from LeadCenter.AI lead:
Salutation
First Name
Middle Name
Last Name
Suffix
Preferred Pronouns
Nickname
Designations
Job Title
Employer
Family Name
Address Type (multiple addresses can be pushed from LeadCenter.AI to Redtail)
Is Primary Address
Country
Address
Address Line 2
City
State
Postal Code
Email Type (multiple email addresses can be pushed from LeadCenter.AI to Redtail)
Email Address
Is Primary Email Address
URL Website Type (multiple URLs can be pushed from LeadCenter.AI to Redtail)
URL Website Address
Status
Gender
Category
Tax ID Number
Source
Marital Status
Marital Anniversary
Referred by
Client Since
Client Termination Date 
Servicing Advisor
Date of Birth
Date of Death
Writing Advisor
Enable DOB Reminder? 
Spouse Salutation
Spouse First Name
Spouse Middle Name
Spouse Last Name
Spouse Suffix
Spouse Nickname
Spouse Designations
Spouse Job Title
Spouse Employer
There are two types of lead fields in LeadCenter.AI: standard fields and custom fields.
Standard Fields
Those fields are available out of the box in LeadCenter.AI. the following are the standard fields in LeadCenter.AI lead management software:
First Name
Last Name
Email
Phone
Inquiry
Source
Stage
Company Name
Address
City
State
Zip/Postal Code
Country
Interest In Which Category (The entries for those fields can be customized from  here ) 
If you are using LeadCenter.AI Forms for lead capturing, the following standard fields are captured with each form
Form Lead Source
Campaign Source
Campaign Medium
Campaign Name
Campaign Term
Campaign Content
Custom Fields
Redtail CRM contact has more fields than the basic fields in LeadCenter.AI. If you would like fill those details in LeadCenter.AI lead before pushing to Redtail, you can use Lead Custom Fields feature to achieve that. To learn how to create custom fields in LeadCenter.AI Leads, please read  How to Create Custom Fields  .

When creating custom fields, make sure to create the correct custom field type and data type will map accurately to Redtail contact field type and data type. 
To push a lead to Redtail, 
1- Open a lead page from the lead management dashboard
2- Click on the Lead Actions button on the upper right corner

3- Click on Push to Redtail in the lead actions list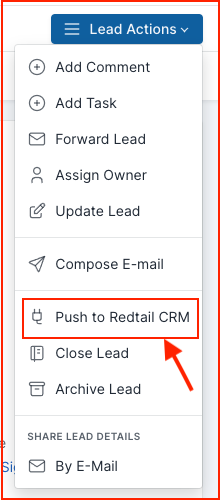 Once you click the Push to Redtail CRM button, the job will start to push the lead as a new Individual contact. The push will be queued as a job. It will take between 20 seconds and 2-3 minutes to create the contact, depending on the number of fields being pushed. Once the job is completed, you will receive an email notification.
If you mapped the Company field, the system will look up if the company exists in Redtail. If it doesn't, it will create a new business contact for that company. If you don't wish to create new companies in Redtail, please don't map the company field.
If you mapped the Spouse fields, the system will also create a new individual contact for the Spouse and link it to new contact as a spouse.