What is Lead Management System (CRM)?
Before we try to understand what lead management is, we should firstly know what leads are. A business lead is someone who is interested in the product or service that you are selling. Therefore lead management is basically the process of acquiring those leads, interacting with them, tracking them and thereby turning them into potential customer who buys your products.
In a lead management process a set of definitive steps are taken by organizations to engage with leads until they become customers. It includes:
Capturing leads from multiple sources,
Tracking all online and offline interactions, such as emails, website visits, phone calls and face-to-face meetings,
Monitoring activities and behavior of the leads,
Educating and engaging them. 
The Lead management system ensures to keeps all your leads, from all various sources in one place, by tracking their activities, and interests. This enables marketing and sales teams to work together on the leads by never missing out any interactions. On the other hand CRM (Customer Relationship Management) systems do the same thing as lead management along with managing other things. They not only manage the complete customer lifecycle from acquiring to conversion, but beyond as well, by retaining the existing customer, find opportunities to up-sell wherever possible.
Therefore our LeadCenter.AI lead management software such as LeadCenter.AI CRM helps to automate the processes of lead management. 
How does lead management software work?
Let us understand the different stages in a lead management process in a bit more detail: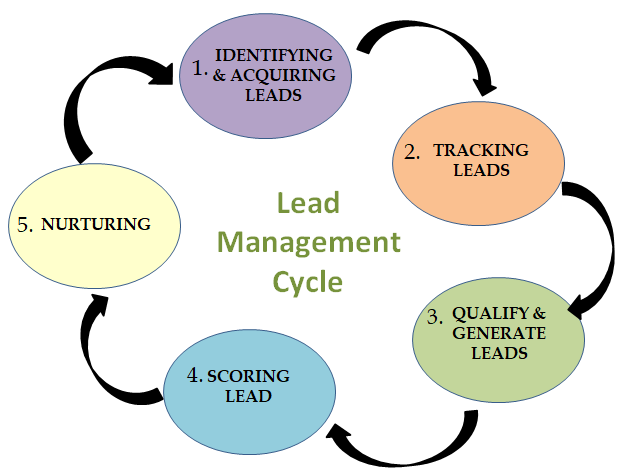 Identifying and Acquiring Leads:
The first most important stage is the first stage of identifying and acquiring the business leads. Based on the demographic and behavioral attributes along with the demonstrated interest of the lead, the sales and marketing team can agree upon the buying readiness of the business lead.
Tracking Leads:
After acquiring the leads, the lead tracking software starts tracking the activities and behavior of that lead. The lead management software automates the process of tracking a lead by populating data about the profile's job title, location, social media profiles etc. It also their online activities like —pages visited, links clicked, resources downloaded and email engagement.
Qualify and Generate Leads:
The next step after acquiring leads is to qualify and generate the leads. This can be done by ranking the leads based on their interest in the product or service that you sell, lead's buying history and their engagement with the company.
You can then generate those qualified leads by creating awareness for your products or services through advertisement, promotional events, PR campaigns, and various B2B and B2C marketing strategies and advertising campaigns.
Scoring Lead:Scoring leads is the carpe diem moment where you seize or in layman terms score your customer. At this stage, the leads are checked to identify if they are worth pursuing which makes them sales-ready leads. Some CRM or Lead Management software gives a score to each lead based on certain key indicators. For example; there are three leads with different job titles, a business owner, a quality expert and an intern, the score for the business owner will definitely be higher than the other two. So the quality score makes it evident that the business owner needs to be scored first. Although we cannot completely ignore the other two leads. But in a way quality and scoring saves time and helps to set the priorities properly to score the lead.
Nurturing:
Some leads may not buy your product or service at the moment, but that can very easily change in the future. They are your leads whom you can lead into the nurturing cycle, and later pass it along to sales whenever they become sales-ready.
It is also the process of consistently engaging them across multiple channels by sharing content which interests them. This can be done through email campaigns, SMS or social media platform. 
Benefits of using a lead management system
Effective Lead Management:
Since in the generation process, we would have gathered enough information, it becomes easy to manage the leads. Otherwise to keep tabs on your leads is a struggle in itself. Also losing a quality lead in the shuffle can be really annoying. This is where the lead management software becomes very valuable as it closely tracks your who are closer to conversion thereby making a better use of your time and money.
Personalize Customer Interactions:
Personalizing customer interactions involves providing the customer a center stage and sending them tailor-made content based on their behaviors and attributes. These data were previously gathered by the lead management software right from the outset during the lead generation process. The discussions made with your leads can be stored for future reference, thereby enabling you to personalize customer interactions.
Transparency:
Transparency is very important in lead managementprocess. It is required to ensure a cleaner and healthier work culture in your company. The CRM software is automated software helps to assign the leads to the sales persons in a transparent manner. This helps to overlook the issue of managing workload at the workplace as well as personalization.
Effective Lead Nurturing:
Nurturing the potential leads that are likely to convert is a significant process now or in the future that becomes easier to handle with lead management software. Leads that are nurtured or educated by email marketing or campaigning are have more possibility to convert and may end up buying, than those leads that are not nurtured.
Saves Valuable Time:
Any type of automated process which here refers to the lead management software helps in saving a lot of time. It helps you to automate routine tasks thereby leaving you with more time to pursue the new leads and convert them into an actual business.
Key Functionalities in LeadCenter.AI Lead Management System